Now we have an increased level of people working from home across the country and the globe, it is important to turn our minds to our home work environments being as safe and healthy as we can make them. Here is our guide, prepared by a qualified and experienced safety professional – our very own Kelly Turner.
With the increasing need to maintain social distancing, and technology increasing capacity to provide real-time access to corporate communication and information systems, it is likely that you and your colleagues are starting to transition to working remotely from the office.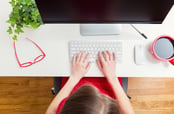 One of the big questions is, how do we manage the safety and wellbeing of personnel working from home? Is it necessary for organisations to have special policies, onsite risk assessments, to separate work areas from domestic areas, take photos of the home work environment, schedule virtual check-in times, and a slew of supporting documentation? What are the essential components to ensure we meet our WHS obligations and keep our people engaged, supported and cared for?


If you would like 1:1 support for yourself or your team, SafetyWorks are offering Virtual WHS Ergonomic Checks with a qualified safety professional via video call contact us for more details.

Tips if you have employees working from home:
Identify and communicate existing policies and procedures that are to be applied in the remote or home environment, for example Risk Management, Supervision, Incident Reporting, Working Alone, and Hazardous Manual Tasks – SafetyWorks are available to support you with this if needed.
Educate and empower people to use these existing techniques and tools to dynamically identify hazards and control risks wherever they happen to be; the home is no different.
Provide employees with what they need to control these risks from a physical and ergonomic perspective such as:

Footstools
A separate keyboard and mouse
Laptop stand
Stationary (pens, paper, printer ink cartridges, etc.).
Emergency Equipment e.g. First Aid Kit
Power board fitted with surge protection
Instruction on how to arrange the workstation equipment – or book a SafetyWorks consultant for a Virtual WHS Ergonomic Check

Ensure that their health and wellbeing needs are being met as well as:

Manage workloads to avoid stress from work overload or insufficient tasks
Provide structure and ways to help to prevent feelings of isolation e.g. regular team check ins via video or phone calls
Be mindful of work and home boundaries. Regular work hours may need to be more flexible to allow for increasing demands on technology. Be mindful of expecting people to always be at work. Establish work times and break times and methods for communicating when employees are/are not available.
Recognise that some may find it hard to 'turn off' from work when it is physically located in the home and others may struggle with distractions in the home. Use regular communication and tip sharing within your teams to navigate these challenges.
Find additional ways to demonstrate that you care for your team and that they are valued.
Encourage activities which promote health and fitness including eating well, and regular exercise.
Tips for individuals working from home:
Check that you have a good working environment – separate your desk from your relaxation area, check your lighting, control noise levels, ventilation and temperature controls, and monitor housekeeping.
Check-in with others regularly
Maintain social connections e.g. virtual coffee catch ups, group chats, share a funny/personal photo, send a text.
Consider the anxiety of others including team members, clients, customers, suppliers. Accept that others won't respond in the same way that you do to the external climate.
Take regular stretch breaks and avoid sitting for long periods.
Set up a daily routine and leave it at your desk where you will see it throughout the day. Have a regular wake up time and work start and finish time, plan your breaks and the activities you would like to do throughout the day. Each afternoon set daily goals to achieve the next day and reflect on your current day, even if it is just one task.

See SafeWork Australia's guidance page for more helpful tips and information.
"We can't change everything that happens, but we can change our experience of those things" Headspace, Mindful Moments